Sojourner's Words and Music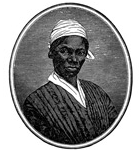 Sojourner Truth was renowned in her time for her speaking and singing ability. Although she could neither read nor write, she had people read to her, especially the Bible, and from this she developed her unique voice about how the world worked and how it could be improved. She sounds like a down-to-earth preacher in many of her speeches.
"Throughout her rhetoric she employed her characteristic sharp wit and her engaging narrative style as she sought to influence her hearers." (Fitch and Mandziuk, p. 89)
"As one of the few African American women speaking publicly at the time, the renown and respect Truth achieved for herself truly were remarkable." (Fitch and Mandziuk, ibid)
"Women leaders of that time were very impressed with her. Lucy Stone described Truth as 'wise, unselfish, brave and good' and Elizabeth Cady Stanton wrote of 'the marvelous wisdom and goodness of this remarkable woman.'" (Fitch and Mandziuk, p. 90)
We would like to give you, the reader, the flavor of Sojourner's style and wit. The following are excerpts from speeches she gave over many years.
On Women's Rights
"Ain't I a Woman?"
Perhaps Sojourner's most famous speech, and the one many people today know her for, was a speech she delivered in 1851 at a Women's Rights Convention in Akron, Ohio. It is a powerful speech but it was recorded by several different people at the time. The most famous record of it is by Frances Gage, the president of the convention, who was there but didn't record the speech until 12 years later. She put the speech in southern dialect, but Sojourner never lived in the south and, if anything, would have had a Dutch accent, as Dutch was her first language. A reporter of the time recorded the speech differently. Both versions are below.
The following introduction from Legal Encyclopedia gives the context of the speech.
Sojourner Truth delivered her "Ain't I a Woman?" speech in 1851 at the Women's Rights Convention in Akron, Ohio. Her short, simple speech was a powerful rebuke to many anti-feminist arguments of the day. It became, and continues to serve, as a classic expression of women's rights. Truth became, and still is today, a symbol of strong women.
In 1851, Truth attended the Women's Rights Convention in Ohio. According to Frances Gage, the president of the Convention, on the second day several male ministers showed up and argued that women should not have the same rights as men. The ministers' reasoning: women were weak, men were intellectually superior to women, Jesus was a man, and our first mother sinned.
Sojourner Truth rose and (amidst protests from some of the women who feared she would talk about abolition) delivered her short, masterful speech–invoking tenets of Christianity and using her strong, imposing presence to debunk the ministers arguments. Pointing to her well-muscled arms and referring to the hard work she performed as a slave, she allegedly declared, "And ain't I a woman?" As to the argument that Jesus was a man, she responded: "Where did your Christ come from? Where did your Christ come from? From God and a woman! Man had nothing to do with Him." And turning the sin of Eve argument on its head, she lectured, "If the first woman God ever made was strong enough to turn the world upside down all alone, these women together ought to be able to turn it back, and get it right side up again!" By all accounts, as Truth spoke, the crowd in the church rose and wildly applauded.
"Ain't I a Woman?" as recounted by Frances Gage, in 1863
Well, children, where there is so much racket there must be something out of kilter. I think that 'twixt the negroes of the South and the women at the North, all talking about rights, the white men will be in a fix pretty soon. But what's all this here talking about?
That man over there says that women need to be helped into carriages, and lifted over ditches, and to have the best place everywhere. Nobody ever helps me into carriages, or over mud-puddles, or gives me any best place! And ain't I a woman? Look at me! Look at my arm! I have ploughed and planted, and gathered into barns, and no man could head me! And ain't I a woman? I could work as much and eat as much as a man–when I could get it–and bear the lash as well! And ain't I a woman? I have borne thirteen children, and seen most all sold off to slavery, and when I cried out with my mother's grief, none but Jesus heard me! And ain't I a woman?
Then they talk about this thing in the head; what's this they call it? [member of audience whispers, "intellect"] That's it, honey. What's that got to do with women's rights or negroes' rights? If my cup won't hold but a pint, and yours holds a quart, wouldn't you be mean not to let me have my little half measure full?
Then that little man in black there, he says women can't have as much rights as men, 'cause Christ wasn't a woman! Where did your Christ come from? Where did your Christ come from? From God and a woman! Man had nothing to do with Him.
If the first woman God ever made was strong enough to turn the world upside down all alone, these women together ought to be able to turn it back, and get it right side up again! And now they is asking to do it, the men better let them.
Obliged to you for hearing me, and now old Sojourner ain't got nothing more to say.
As reported in the Anti-Slavery Bugle, Salem, Ohio, June 21, 1851
May I say a few words? Receiving an affirmative answer, she proceeded; I want to say a few words about this matter. I am for woman's rights. I have as much muscle as any man, and can do as much work as any man. I have plowed and reaped and husked and chopped and mowed, and can any man do more than that? I have heard much about the sexes being equal; I can carry as much as any man, and can eat as much too, if I can get it. I am as strong as any man that is now.
As for intellect, all I can say is, if woman have a pint and a man a quart–why can't she have her little pint full? You need not be afraid to give us our rights for fear we will take too much–for we won't take more than our pint will hold.
The poor men seem to be all in confusion and don't know what to do. Why children, if you have woman's rights give it to her and you will feel better. You will have your own rights, and there won't be so much trouble
The video below is a reading of the speech by Alice Walker.
The Sojourner Truth Project explores the different versions of the "Ain't I a Woman?" speech and seeks to "offer a more truthful picture of Sojourner's words, her accent, her heritage and her distinct voice" with a collection of videos of women reading Truth's speech in contemporary Afro-Dutch dialects.
Further Speech Excerpts on Women's Rights
1853, New York: "…we'll have our rights; see if we don't; and you can't stop us from them; see if you can."
1867, New York: "We want to carry the point to one particular thing, and that is woman's rights, for nobody has any business with a right that belongs to her. I can make use of my own right. I want the same use of the same right. Do you want it? Then get it. If men had not taken something that did not belong to them they would not fear".
1867, New York: "We are now trying for liberty that requires no blood—that women shall have their rights—not rights from you. Give them what belongs to them; they ask it kindly too."
"Now, if you want me to get out of the world, you had better get the women votin' soon. I shan't go till I can do that."
1867, New York: "There is a great stir about colored men getting their rights (they received their rights after the Civil War), but not a word about the colored women; and if colored men get their rights and not colored women theirs, you see the colored men will be masters over the women, and it will be just as bad as it was before. So I am for keeping the thing going while things are stirring."
On Slavery
1851 (Here one of her most impressive "reframings" of a subject she knew so well): "O friends, pity the poor slaveholder, and pray for him. It troubles me more than anything else, what will become of the poor slaveholder, in all his guilt and all his impenitence. God will take care of the poor trampled slave, but where will the slaveholder be when eternity begins?"
1854, Boston (from Garrison's Liberator newspaper): She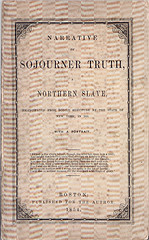 had often asked white people why God should have more mercy on Anglo-Saxons than on Africans, but they had never given her any answer; the reason was, they hadn't got it to give.
1856, Battle Creek, MI: "And I asked God, why don't you come 'nd 'leave me—if I was you, and you'se tied up so, I'd do it for you."
1863, Battle Creek: "Children, who made your skin white? Was it not God? Who made mine black? Was it not the same God? Am I to blame, therefore, because my skin is black? …. Does not God love colored children as well as white children? And did not the same Savior die to save the one as well as the other?"
1867, New York: "I will shake every place I go to."
On Her Name Change:
The story of Sojourner Truth's name change from Isabella to Sojourner comes from Harriet Beecher Stowe's article "The Libyan Sibyl," and Stowe puts Sojourner's words into dialect.
"My name was Isabella; but when I left the house of bondage, I left everything behind. I wa'n't goin' to keep nothin' of Egypt on me, an' so I went to the Lord an' asked Him to give me a new name. And the Lord gave me Sojourner, because I was to travel up an' down the land, showing the people their sins, an' bein' a sign unto them. Afterwards I told the Lord I wanted another name, 'cause everybody else had two names; and the Lord gave me Truth, because I was to declare the truth to the people." (Harriet Beecher Stowe, "Sojourner Truth, the Libyan Sibyl," Atlantic Monthly Apr. 1863, 478)
Sojourner and Music
Sojourner was very fond of singing both religious and secular songs.
Sojourner Truth… made a version of the song, "The Valiant Soldiers," which appears in the 1878, 1881, and 1884 editions of her "Narrative". Her song is almost identical to Captain Miller's version of the "Marching Song." In the post-Civil War editions of Truth's Narrative, "The Valiant Soldiers" is introduced by this sentence by Francis Titus: "The following song, written for the first Michigan Regiment of colored soldiers, was composed by Sojourner Truth during the war, and was sung by her in Detroit and Washington." She did sing the song, but she was first linked to the song in 1878, fourteen years after Miller's version was published in the National Anti-Slavery Standard.
In 1993, Sweet Honey in the Rock recorded "Sojourner's Battle Hymn," which was basically "The Valiant Soldiers" by Sojourner Truth, which was actually the "Marching Song of the First Arkansas Colored Regiment" by Captain Miller, with a few less stanza's.
Many people today have also written songs about and for Sojourner Truth. Here's a sampling: