Who was Sojourner Truth?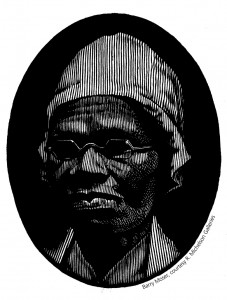 Sojourner Truth was a nationally known advocate for justice and equality between races and sexes during the 19th century. She is honored in American history for her compelling autobiography, for innumerable speeches against slavery and for women's rights, for her work on behalf of freedmen after the Civil War, and for her ability to keep audiences enthralled through songs and eloquent speeches.
Sojourner Truth was born an enslaved person near Kingston, New York in approximately 1797. Her given name was Isabella Baumfree. She labored for four masters and in 1826 took her freedom from John Dumont, her last owner. She soon moved to New York City, where she worked as a household helper, and then joined a millennial spiritual community, The Kingdom. When the group disbanded in scandal in 1835, she went to court and proved libel, thus preserving her reputation. She continued to work in New York City until 1843, when she felt a call from God to become a preacher. When she left New York City, she changed her name to Sojourner Truth and eventually made her way to Florence, Massachusetts.
Truth in Florence
Sojourner Truth arrived in Florence, Massachusetts (a village of Northampton) in 1843, joining the Northampton Association of Education and Industry, a utopian community dedicated to equality and justice. While the Northampton Association was a relatively short-lived experiment as a formal community, its existence gave testimony to that special human spirit which seeks to increase justice and improve society, to promote – as its founders wrote – "advancement in truth and goodness."
While at the Association and living in Florence, Truth met many of the country's important abolitionists: William Lloyd Garrison, Wendell Phillips, Frederick Douglass, and David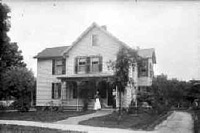 Ruggles. These leaders, along with Samuel L. Hill, Elisha Hammond, George W. Benson, Austin Ross, and J.P. Williston, helped establish Florence as a center of antislavery resistance. At least four former slaves who lived in Florence bought houses in the village. Several Florence homes were stops on the Underground Railroad.
After the Association disbanded, Truth remained in Florence. In 1850, she bought the lot at 35 Park Street from Samuel L. Hill for $300. By this time, she was touring widely and speaking for various reform causes, and in the same year dictated her autobiography, The Narrative of Sojourner Truth, to Olive Gilbert. She paid off the mortgage for her house with the proceeds of its sales, although her speaking kept her away from Florence for months at a time.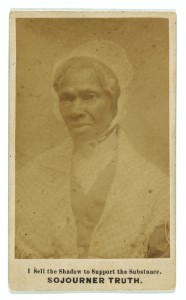 During the time she lived in Florence and afterward, Truth made a living as a public speaker, successfully brought cases to court, marched and performed sit-ins for reform causes, petitioned Congress, met with presidents, and tried to vote in the 1872 election. She also broadened the definition of "reformer" beyond the white, educated, middle-class women who primarily made up the women's movement. In her life and person, Sojourner Truth combined the causes of abolition, racial equality, and women's rights, and was a significant advocate for social justice.
Truth left Florence in 1857 and eventually moved to Harmonia Community, Michigan, and then to Battle Creek, Michigan, where she died in 1883.
Download a discussion of Sojourner Truth's history in Florence.