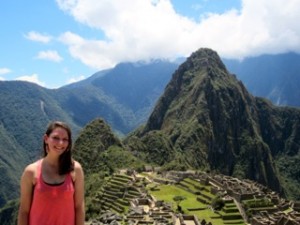 As a high school student, Victoria Rapoport taught English to immigrants, promoted disability rights with Best Buddies, and advocated for human rights with her local Human Rights Commission. When she graduated from Amherst Regional High School in 2011, the Sojourner Truth Memorial Statue Committee awarded Victoria one of its social justice scholarships in recognition of her commitment to social justice and equality. Now a junior at Tufts University, the former high school valedictorian has remained committed to social justice, advocating for health and education equality both locally and globally.
As a Tufts student, Victoria was selected to be a Tisch Scholar for Citizenship and Public Service, one of a group of students who develop leadership skills through community-based experiential learning. During her sophomore year, she interned with the Boston Student Advisory Council in Roxbury, facilitating college readiness and access programming for student leaders in the Boston Public Schools. At Tufts, she also serves as co-coordinator of the Tufts ESL Program, which provides ESL courses to janitorial staff members who are limited-English-proficient. "I help train student volunteers as ESL teachers and recruit Tufts janitorial staff as adult learners; in addition, I volunteer as a teacher and tutor and provide learner-centered ESL classes and tutoring sessions," Victoria explained.
Victoria's impact in the community has extended far beyond the Tufts campus. Her interest in global public health took her to Guatemala, her father's home country, last January, as part of the Tufts chapter of Timmy Global Health, an organization that expands access to healthcare and empowers students and volunteers to take on today's global health challenges. Timmy also sends medical service teams around the world in support of its partner organizations; it was with one of these medical brigades that Victoria traveled to Xela, Guatemala, and helped establish five mobile medical clinics in rural, indigenous communities.
"This past summer, a couple other girls from the group and I were eager to return to Guatemala to conduct public health research on the water-related assets and needs of the communities we had previously worked with," Victoria said. "We received a grant from the Empower Program for Social Entrepreneurship at Tufts to help us carry out this work, which was an amazing learning experience that really opened our eyes to the challenges of global public health work."
Now Victoria is studying abroad in Santiago, Chile, where she also interns at la Corporación Chilena para la Prevención del SIDA – ACCIONGAY, an HIV prevention and gay rights activist organization. Among her many contributions, Victoria is translating ACCIONGAY's website into English and performing important outreach activities to LGBT organizations around the world, in support of ACCIONGAY's Family Diversity campaign. "I have learned so much about gay rights and HIV/AIDS issues within Chile during my time at the organization and have been deeply inspired by the kind of work they do," she said.
Victoria, who is a Community Health and Anthropology double major, hopes to get a Master's in Public Health and work in global public health, to help address the inequities she has seen during her work in the local and global community. "We are all members of a global community, and it should be our task within this community to work toward a world full of justice and equality for all people," said Victoria. "Young people are the next generation, and we have the power, through our knowledge and creativity, to make a difference in the world."
Join us in helping students like Victoria to make a difference in the world by making a gift on Valley Gives Day.