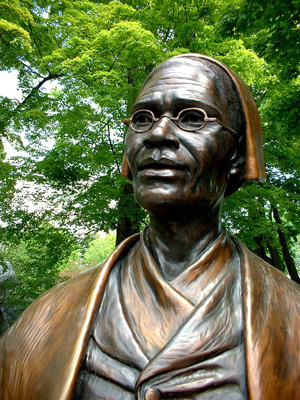 The site for the Sojourner Truth memorial statue was a former small city park at the corner of Pine & Park Streets in Florence. The city donated the site for the statue and final plans were approved by the Northampton Board of Public Works in November 2001.
Denig Design Associates of Northampton donated their expertise to design the memorial site. The statue stands on a granite pedestal, set within a central terrace framed by granite seatwalls which are surrounded by a lush array of garden plantings. Informational plaques about Sojourner Truth and the Northampton Association of Education and Industry, of which she was a part, are placed throughout the site
On February 7, 2002, the Northampton City Council formally accepted the memorial site and statue as a gift to the City when completed. A groundbreaking ceremony was held on Monday, June 17, 2002. The statue was installed on October 4, 2002 and dedicated at a ceremony on October 6th. Landscaping was completed in the summer of 2003 by volunteers, including students from Smith Vocational & Agricultural High School, with plants that were donated by local stores and nurseries.
Project Origins
In 1994, a group of Northampton citizens came together with the idea of creating a memorial statue to honor Sojourner Truth and her work. This group grew out  of the Committee for Northampton, which was formed in 1993 following the videotaped police beating of Rodney King in Los Angeles.  The committee wanted to increase appreciation of diversity, build community and challenge oppression;  they  wanted to promote  social justice through ongoing conversations and education around issues of race, sex, class, sexual orientation and other kinds of diversity.   The need for this work continues as tragic and violent hate crimes are still seen around our country as well as in our own community.
A crucial aspect of this educational process is giving greater public recognition to the individuals and events in American history that mark high points in the ongoing struggle for equal justice. The arrival of Sojourner Truth in Florence in 1843 and her membership in the Northampton Association, an abolitionist community,  was one such moment. Truth's life in Northampton reflects an extraordinary historical period when a group of men and  women joined across lines of race, gender, and class to struggle against slavery and to seek equality and a better life for all people.
From 1994 – 2000, the Statue Committee led a community-wide effort to increase awareness of the legacy of Sojourner Truth. The Committee fostered community support for the statue, selected the site, raised funds, commissioned a sculptor, and selected a contractor to construct the memorial site.
The project received a major boost in 1997 when the Massachusetts Legislature awarded it a $100,000 matching grant under the Massachusetts Monument Grants program. Other major gifts were received from Florence Savings Bank, Smith College, the Community Foundation of Western Massachusetts, and an anonymous donor. A penny collection, begun by the Unitarian Society of Northampton & Florence in the fall of 1998, grew by spring 2000 to include more than 50 collection sites in western Massachusetts and eight other states.  As a result of the community's generosity, more than $7,000 was raised by this grassroots campaign.
Artist Search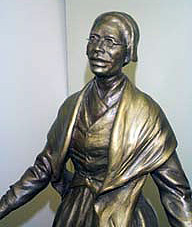 On April 1, 2001, Thomas Jay Warren was selected to create the statue of Sojourner Truth.
Warren  was born in Mississippi in 1958, and studied sculpture as a Presidential scholar at Mississippi College, graduating with special distinction in 1979.
Warren has been  commissioned for many memorials and among these are: the Medgar Evers Memorial in Jackson, Mississippi – a life-size bronze of the slain civil rights leader; the over life-size bronze portrait of Dr. Martin Luther King Jr. in Newark NJ's City Hall; and a life-size bronze portrait of legendary Sioux spiritual leader Frank Fools Crow at Bear Butte State Park in South Dakota.  In 1992 Warren was presented with the Young Sculptors Award by the National Sculpture Society in recognition of the outstanding quality of his work. He was inducted into the National Sculpture Society in 1997.
Unveiling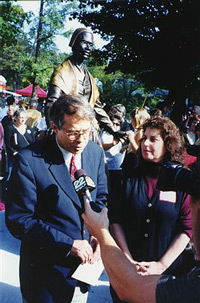 More than 600 people attended the unveiling of the Sojourner Truth  statue  in an afternoon dedication ceremony on Sunday, October 6, 2002.  Honored guests included former Northampton Mayor Mary Ford; Senator Stan Rosenberg, whose leadership won a $100,000 state grant for the memorial; the Northampton landscape architect firm of Denig Design Associates, which created and donated the memorial site design; and Mayor Mary Clare Higgins.
The memorial honors both Sojourner Truth and the vision that inspired her. The goal of the memorial site is to help keep this piece of Northampton's history alive both for the residents of western Massachusetts and visitors to this area.