Sojourner Truth

The Narrative of a Northern Slave.
By Sojourner Truth.
Available at Broadside Books, Northampton MA
Honoring Truth

"Honoring Truth The Sojourner Statue Story 1992-2012" was compiled by editor Rev. Peter Ives to commemorate the 10th anniversary of the statue of Sojourner Truth in Florence, MA.  The building of the statue was not an easy task and this book details the work and honors all those in the community who made the statue possible.
All proceeds from the book benefit the Committee's Scholarship Fund.  The book is available for purchase here
Truth
A novel based on the life of Sojourner Truth
by Jacqueline Sheehan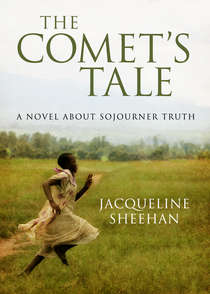 "Truth reads like a fast-paced poetic memoir, telling the tale of the abolitionist heroine with innocence and accuracy. In a feat of literary ventriloquism, Jacqueline Sheehan imagines the interior life of Sojourner Truth, reaching beyond the heroine's social and political persona to create a searing novel that infuses the historical atrocities of the 1800's with psychological speculation of who Sojourner Truth really was. Jacqueline Sheehan puts the story back in Sojourner's voice."
Available at Broadside Books, Northampton, MA. Jacqueline Sheehan, a member of the Sojourner Truth Statue Committee, lives in Florence, MA and is a practicing psychologist, essayist, and short story writer. Truth is her first novel. For more information about Truth, go to jacquelinesheehan.com.
Sojourner Truth's "I will shake every place I go to"
In 2009-10, a play about Sojourner Truth, "I Will  Shake Every Place I Go To," was developed in collaboration with the Enchanted Circle Theater in Holyoke, MA. Enchanted Circle has produced a complete version of the play in book format along with a CD of the music and a CD of teaching ideas.  The book of the play and materials are appropriate for grades 5-12. Contact Enchanted Circle Theater for information about the book and CD. This teaching tool is also available at the Odyssey Bookshop, Broadside Bookshop, and Amherst Books.
Sojourner Truth Greeting cards

by Linda Wallack
An artist who lives in Florence, MA, Linda was a member of the committee that created the memorial site. Cards available at LindaWallackArt.com.
Sojourner Truth Memorial Statue T-Shirts
Available at these locations in Northampton:
Lucky's Emporium, 37 Main. St.
Skinsations, 56 Main St.
At the annual celebration on Memorial weekend Sunday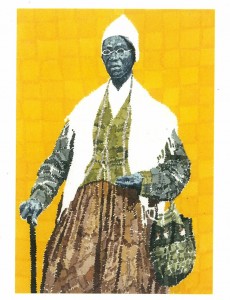 Richard Yarde Sojourner Truth Cards and Prints
Cards $5, prints $150
Available at:
Collective Copies, Main St., Florence, Ma.
Hope and Feathers framing gallery, 319 Main St., Amherst, Ma.